Photo Gallery
This photo was taken last year at the annual 'Clean Up Australia Day'. March 1997. Ron Tyson, Rover Advisor & Rockcraft instructor, is co-ordinating the removal of rubbish from the bottom of the Queen Elizabeth Lookout, Echo Point, Katoomba. 100km west of Sydney. The famous rock formation, 'The Three Sisters' is in the background.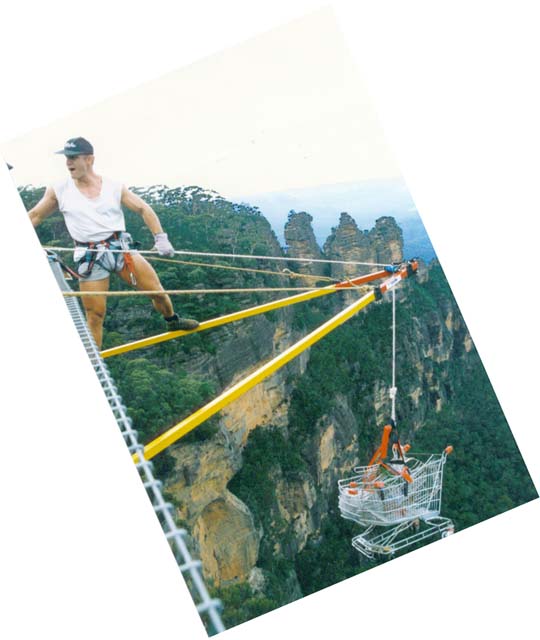 Photo: copyright © 1997 Paul Thistlethwaite, VSL 1st Frenchs Forest, Sydney, Australia
This lookout is one of the most popular lookouts for tourists, etc. in the Sydney region. Over 50 bus loads of tourists each day visit the site, plus car visitors & those who walk down from the rail station. We retrieved over 50 240l 'wheelie bins' (domestic rubbish bins), several shopping trolleys (as in photo) & numerous other rubbish items from 180m below on that day. This year more wheelie bins, shopping trolleys, beer kegs, a Mac laptop, VCR & bags of cans, bottles & other rubbish thrown, dropped or lost over the edge.

A special frame has been made up, & along with 200m of rope, 10-20 Venturer, Rovers & Leaders, it is hauled up from the bottom. Another team of Scouting people are at the bottom, collecting the rubbish from around the bush. They bring it into a point at a clearing in the tree where we can get the rope down to. We also have 2 other people who abseil down the cliff & sit at 2 positions where the rope could get caught. These are 30m & 120m below the lookout. They do what they can at their position. Sunglasses, hats, & mobile phones are among the items found at the 1st ledge 30m below. Communication is by two-way radio between the top, bottom & both positions between.

The Rockcraft team from Sydney North Region have been doing this site now for 5 years. This year it was very foggy & we only saw the bottom for 3 minutes that day. Last year we had National TV & newspaper coverage for it. See "Welcome to Clean Up Australia" for more info on Clean Up Oz & Clean Up the world.